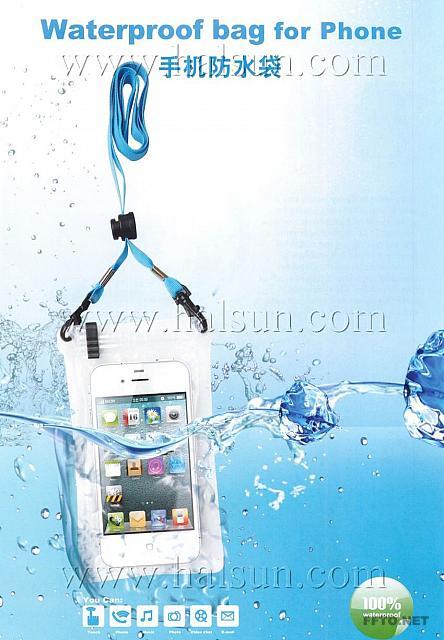 Waterproof Pouch Dry Bag Pack Case Cover for Cell Phone Wallet Money
Great for the Beach, Camping, Hiking, Backpacking, and other Outdoor activities!!
Features
1. New generic Universal Waterproof Bag Case for Cell Phone / Wallet / Money / Cameras / Passports etc. 
2. Textured pouch for grip.
3. Waterproof cover protects, dust, sand, snow, water, and wind resistant.
4. The waterproof cover allows you to comfortably operate the machines function.
5. Waterproof cover on the back of a transparent design, easy to use your camera functions
6. 55 inch Lanyard
7. Dimensions:10.5 X 17CM; 9.5 X 16CM; 23 X 29cm;  , etc; Custom size also workable.
8. Material: Clear PVA Material
9. Custom logo imprint are workable.
10.Color: BLUE/YELLOW/ORANGE/RED/BLACK, ETC; Custom printing workable
Find more size and different styles of waterproof dry pouch bag for cell phone and PDA IPD
Custom logo print on bags are workable. Contact us for more information.
Almost everyone have a smart phone, such as iphone or Android phone, and people carry them whatever they go, even going outdoor or spending their time on beaches. Those touch screen smart phone are quiet venerable to water. But people want to carry with then when they are near or even in water. How? With Halsun waterproof phone pouches, you can carry your expensive touch screen iphone ipad, Android phone with you when you play at beach!  Halsun waterproof phone pouches are inexpensive, thus make them great promotional gifts for companies want to promote their business. They are perfect giveaway gifts with your custom logo imprinted.