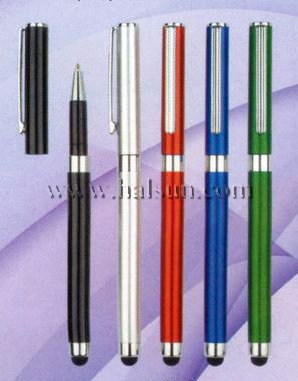 Multi Function Ballpoint & Stylus Pen Combo for ALL Capacitive Touch Screen Device iPhone iPad. Item No.: JC409.
Made with high quality light metal material, this 2 in 1 Touch Screen Stylus Ballpoint Pen is specifically designed for Apple iPad, iPad 2, The new iPad 3, Iphones, Ipod Touch and other High-End Touch screen electronics that use the latest capacitive touch screen technology such as the iPhone 4S. Generally you know you have a capacitive touch screen device if you can navigate the screen easily with your finger tip without applying too much pressure. Combining the convenience of a ballpoint pen and soft stylus touch tip, it provides precise touch and control, gives you the smoothest navigation without scratching the screen. It's also a clip Cap Style Ballpoint Pen (Replaceable Ink Refill) which you can write conveniently. It can be clipped onto your pocket, book, diary, etc. Please watch out for stylus out on the market that are not specifically designed for capacitive touch screen, but for older resistive technology, those stylus will not work and will damage your screen.  Color: Black, metallic red, metallic blue, metallic green and Silver.
Your customized logo can be imprinted on barrel. Check more styles of our stylus pens.