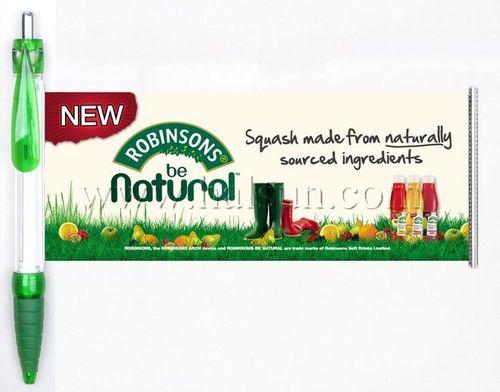 There is a pull out banner inside of the pen barrel, when people pull it out, they can see your marketing and prmotional message, the banner is retractable and fun.
We are pen manufacturer located in China, offer ball point pens with scroll out custom message, scroll pens with retractable pull out banner, custom imprinted message scroll pens, advertising retractable banner pens, promotional flag pens, this innovative retractable banner pen leaves a long lasting impression. If you would like to buy banner pens with your custom logo printed, welcome contact us for more details.
Banner paper measures : 16.8 x 6.8cm (6.6″x2.7″ inch)
Spring inside: hand releases and automatically retracts
Large print area, 4 color process on double-sides imprinted available.
Barrel with custom logo is available.
The banner is over 4 times larger than a business card and can be printed on both sides in full colour with any artwork required. We are banner pen supplier & manufacturers in China, wholesale all kind of pens, welcome to buy pens from China direct. if you would like printing on the pen barrel or clip, please contact us for more detail.
Banner pen design artwork
Banner pens contain a spring loaded, laminated banner which self-retracts inside the barrel of the pen. you can print your own full color logo, contact information, message, advertising on both sides of the pullout banner. below is an artwork for your reference.
Banner Pen Manufacturing
Delivery to Worldwide
We can offer plastic ball point pens with your logo and message on it, shipping to worldwide by air express (DHL/UPS/EMS/FEDEX) , to door service. please offer your shipping address to estimate shipping cost.
Welcome to contact us for price quote, sample or other request.