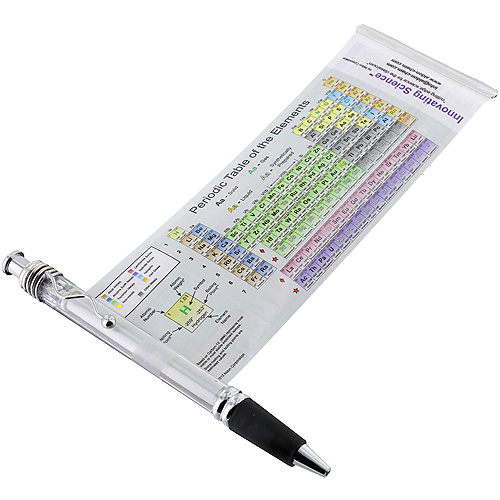 The most convenient reference guide available – the Periodic Table Pen.  This pen holds a double-sided, updated Periodic Table.  The back side is a handy miniature reference chart.   A great reference right at your fingertips for both students and teachers!
Features:
Functioning pen
Paper scrolls out to reveal complete updated periodic table of elements
Reverse side features a reference guide with conversions
Excellent for chemistry students and teachers
Customer Reviews
 Posted on: May 18 2015 by: Evangeline from Spring City, PA
This was a fun little gift for my son, so I really can't speak on it's performance. I will say that when it arrived, I tried to pull out the periodic table and the little pull piece was lodged in the pen, it took a lot of work to get it unstuck, I almost lost it when it recoiled back into the pen. I wish that quality was better made. But it's a cute little novelty pen. I would buy more for his scientist friends and coworkers.
Problematic pen
Posted on: Sep 24 2013 by: M. Gross from US, CA, San Diego
At first it wouldn't unroll. I pulled a little harder and it pulled out and wouldn't go back in. It was embarrassing because I was showing off my cool new pen:(